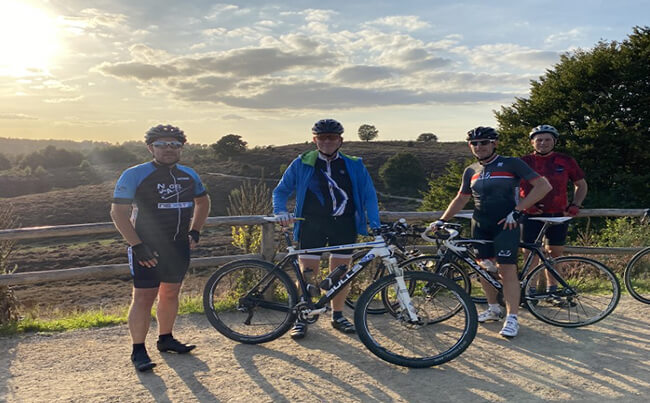 Rondje Posbank op de fiets
Bij Construsoft houden we wel van lekker eten. Er wordt regelmatig een bezoekje aan de markt, snackbar of lunchbar bezocht en regelmatig vindt er een traktatie plaats voor een verjaardag of verloren challenge . Gelukkig staan daar tegenover ook een hoop sportieve activiteiten. Zo is er inmiddels een WhatsApp-groep ontstaan uit een clubje fanatieke fietsers. Allemaal na een eerste tochtje dat ik (Brian) aflegde samen met collega Maic.
Na het allereerste tochtje samen door de Betuwe met Maic, kwam hij met het idee om vanuit kantoor ook eens een rondje met collega's te doen en dat we dan de Posbank gaan 'bedwingen'. Op een donderdag in de nazomer zijn we na kantoortijd met 4 man op de fiets gestapt. Samen met Berend, Aldwin en Maic besloten we een rondje van ongeveer 60 km te gaan fietsen over de Posbank. Na mijn val van 4 weekjes geleden was ik wel benieuwd hoe het zou gaan met mijn nek. Achteraf bleek dat dat niet zozeer het probleem was. Het probleem was eerder het uitdagende parcours dat Maic had uitgestippeld. De beentjes stribbelden op de klimmetjes meer tegen dan mijn nek: bedankt Maic!
De route
Benieuwd naar de route die wij hebben afgelegd? Bekijk hieronder de route.
Al met al hebben we een leuke en gezellige rit gereden, iets dat we zeker vaker doen. Het zou leuk zijn als er dan ook nog een paar collega's meer bij ons aan willen sluiten. Hoe meer zielen hoe meer vreugd (lees: leedvermaak 😉).